Film & Television

Sandbags are iconic. Nothing says conflict, siege, resistance and survival better...
whether it's war, revolution, floods, mudslides, hurricanes, or the zombie apocalypse.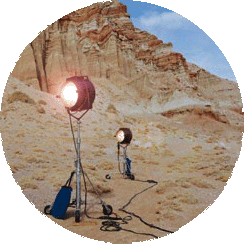 We're New Mexico's only full-service sandbag company, and our bags have been featured in several major motion pictures and television productions (scroll down to see our credits to date). We'd love to work with you.
Pricing:
Filled bags start at $3.00 each. See our
commercial page
for information about bag types & prices. We offer volume discounting and we can deliver throughout the Southwest.
Rentals:
Cost-effective, reasonable rates & saves you the logistical hassles of disposal when you're striking the set. Just ask (include quantity & time frame needed).
__________________________________________________________
Set Design, Dressing and Props

Military:
Besides being a staple of modern warfare (Afghanistan, Iraq, Vietnam, Korea, both World Wars), sandbags have been in use as far back as the Revolutionary and Civil wars... essentially since the invention of the textile mill.
If you're looking for historical accuracy, sandbags started out as white cotton bags. In the late 19th century, they shifted to burlap and remained the standard until the 1960s, when polypropylene bags started to become available. While white poly bags are the most common, colored bags (green, tan) have become more popular in the last couple of decades for camouflage.


Revolution, Civil disobedience:
In 1968 Prague, people threw bricks and stones at Russian tanks from behind sandbag fortifications. Anti-war protesters famously blocked streets outside the GOP convention in Miami in 1972. Just this summer (2017), Navalny supporters did the same in the streets of Moscow. Expect to see more.
Natural Disasters:
Every spring, we're inundated with images on the news of sandbags taking front stage against the relentlessness of floods. You see them being used in hurricanes, earthquakes, wildfires, landslides, tsunamis, and other examples of mankind's epic & eternal struggle against nature at its most destructive.
Props:
In addition to our standard poly & burlap sandbags, we can source specialty bags such as old faded burlap coffee & feed bags, cotton bags, etc. These can be filled with lightweight material for wagon & cart loads, Old West general store shelves, dockside cargo bales... you get the idea. We've the suppliers and the connections to get you what you need.
Physical / Mechanical Effects

One production we worked with needed clouds of dust for a car chase... there'd been too much rain and - well, there was no dust. Time was limited. We came up with loose-weave burlap "duster" bags filled with dry silty dirt to do the trick when driven across.
Albuquerque is blessed with fine silt which is ideal for
movie dust
. We can also provide wide varieties of sand, dirt, rock, scoria, concrete & asphalt rubble, etc., in any quantity you need. Our aggregate yard is an apocalyptic wasteland with mountains of rubble which would be perfect for a location. Come visit. You'll love it.
Endless.
Rigging and counterweights.
Holding down tarps and equipment in high winds.
Storm water and flood diversion & channeling for outdoor locations.
Erosion control & stabilization.
Skirting for trailers to block wind and provide insulation.
Blast barriers for live explosives.
Barricades, temporary enclosures and structures.
Because bags are so multi-purpose, you can move them around on the lot for different uses & applications.
---

Film Television

The Scorch Trials The Night Shift (NBC)
Whiskey Tango Foxtrot The Brave (NBC)
Only the Brave (Granite Mountain)
Horse Soldiers
---
What we offer:
We provide both filled and empty sandbags in any quantity - no minimum - and can deliver state-wide, or load your truck in our yard to ease your budget. Our most popular industrial grade bags are:
Polypropylene (available in green, orange, white, black, or desert tan).
Burlap, both plain (natural untreated jute, tan) and treated (US Military specs, EPA-approved, green).
Pre-filled 10-lb and 20-lb saddle sandbags for light stands, booms, tripods, etc.
You can find more descriptions of our bags and view their specs on our store pages
here
. Our rental bags are heavy-duty black bags (unless you specify otherwise) and can handle the worst your crew can dish out.
If you'd like bag samples (and if time allows), let us know. We carry or can source other kinds of bags as well. Give us an idea of what you're looking for. If we don't have it in stock, we can get it... everything from Roscos to Hescos.
Special challenges? We love them. Give us a call & we'll see what we can do for you.
About us:


We're a small, homegrown company (our office is our kitchen table), and we'll bend over backwards to meet your needs while keeping within your budget & deadlines. Our filled bags are lovingly hand-filled to your specifications.

Eco-Friendly:
We're registered with the New Mexico Film Office as being 'eco-friendly'. What's this mean?

The term is widely overused & sometimes abused, but in our case we mean it. The masonry sand used to fill our bags comes from recycled concrete. Our burlap bags are biodegradable & compostable, while our poly bags can be recycled with household plastic waste (resin ID code 5). We use recycled pallets. We produce minimal carbon emissions. And we pick up our garbage.

We offer hiring preference to people with obstacles to employment, including veterans, minorities, women, folks with arrest records & felonies, people who are homeless, and those with disabilities. We pay well (over $10/hour to start) and provide hard workers with strong references & encouragement when they're ready to move on. We source our supplies locally whenever possible, and sell at (or near) cost to non-profits and educational entities. Your support helps us support the community. And we're a member of the Film Business Alliance of New Mexico, which means that we also actively support
your
community.
Call us at 505.750.3478 and leave a message if we don't pick up.
We'll get back to you ASAP.
Alternatively, email us at
info@nmdirtbags.com
.