Filled sandbag prices:


6 - month rated polypropylene bags - $225 per pallet (75 count), $3.00 each
available in white, green, orange & tan *

4 - year rated polypropylene bags - $300.00 per pallet (75 count), $4.00 each
available in black, white, and orange *



Filled treated burlap bags, US military spec, rot & mildew resistant




$335.00 per pallet (75 count), $4.50 each
All prices are FOB Albuquerque. Shipping and/or delivery are extra. Ask for a quote.
NM gross receipts tax of 7.5% applies to all in-state sales (waived with valid NM NTTC).
30-day invoicing available for qualified businesses & government entities.
Credit card purchases over $1,000 are subject to a 3% card processing fee.
Advance payment or deposits may be required in some instances.
* Some colors or bag styles may be backordered and will require reasonable lead time.
Call 505-750-3478 or
email us at info@nmdirtbags.com
to order


ask about our guarantee on 6-month and 4-year filled bags
---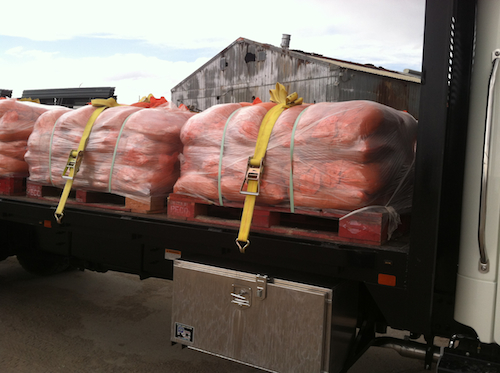 Emergency? Call us at 505-750-3478 (DIRT), pretty much 24/7. If we don't answer right away, leave a detailed message and we'll get back to you as soon as possible. We check email and voice messages multiple times during the day.

We provide burlap, polypropylene and monofilament bags, either filled or empty, with no minimum quantity. You can buy 1 or 100,000.

All three types of bags are available in assorted sizes, with the poly bags available in a selection of colors & weights. If we don't have it in stock, we'll order it.

Our standard poly & burlap filled bags conform to Corps of Engineers guidelines: approx. 30-35 lbs. & about 0.33 cubic feet each, run 75
bags to the pallet, and 20 pallets to the truckload. We also provide
50 lb bags; these run 50 bags to the pallet (1,000 bags per truckload). We use masonry sand from recycled concrete & secure our bags with 58 lb. test nylon zip ties.

If you have particular or exacting weight specifications (± 1 lb) for your bags, we're happy to accommodate your needs at no extra cost. though bag count per pallet & shipping costs may require some adjustment. Since we're a small company, we might need reasonable lead time to get your bags filled. Rush orders are available at extra charge.




Our Products:

We don't scrimp. We appreciate quality, and want what we sell to reflect on us. Both our poly and our treated burlap

bags

meet or exceed US military specs. We'll also work with you to customize your needs.

Polypropylene bags are woven, nearly waterproof, and tear/puncture resistant. Their weakness is UV degradation, a particular problem in our part of the country and at our elevation. We only carry bags that have been pre-treated with a high degree of UVI (ultraviolet inhibitors). We also carry treated and untreated burlap bags (below).



Polypropylene bags, HD 4-year bags:

Our heavy-duty woven polypropylene 14.5"x26" sandbags are available in white, black and orange. These are rip-and-puncture resistant and largely leakproof.

While the manufacturer rates them 4-year bags, under different conditions they may last a shorter or a longer term. Heavier than the average tarp (4.5 oz/yard, 12 mil), they're the toughest bags we've seen.

Polypropylene bags, medium weight:

Our standard white woven

polypropylene

bags

are 10x10 weave and a minimum of 850 denier, resisant to moisture, tears, rips, soil bacteria & critters, and treated with a minimum of 1600 hour ultraviolet inhibitor (UVI). In New Mexico, this equals out to a lifespan of about up to a month in the summer and about 6-9 months in autumn through spring, before they start to break down.

Burlap bags (treated)

are 9 oz. jute, dipped in an EPA-approved ammonia solution to stiffen them & enhance their resistance to mildew, moisture, insects and soil bacteria. They're biodegradable and can be left in place (and can even be stuccoed or plastered over for permanent structural installations). They conform to US military specification CID A-A-52141 (formerly MILB-12233E) / NSN#8105-00-285-4744 - class A, and are made in the US.

Burlap bags (untreated)

are 100% additive-free and are food-grade with no odor. These are available in a variety of sizes (call or email for more information). We normally keep the 14"x26" and the 18"x30" sizes in stock. Other sizes will require special ordering.

Monofilament bags:

These are made of a monofilament polyethylene and are open-meshed to allow filtered stormwater drainage. They're better filled with gravel than with sand or dirt (which may sift out). Depending on use & conditions, their life span is about 3-6 years or longer.
Durabags

are 14"x26", come in seven colors (great for landscaping or conditions that call for either high or low visibility).
Snakebags have a filled size of 6" x 36" and include a handle on one end. They're excellent for both ballast and filtration.
Fitted pallet covers:

we carry these in both HD (silver, 10.5 mil) and lightweight (3 mil, black).
Tools include
bag filling stands, hand tampers & sifters, and 4-pt, 15.5 gauge barbed wire (for locking stacked bags together), sold by the foot or by the roll.
Other bag sizes:
Larger bags (18"x30") are available in white, orange, yellow & untreated burlap bags (75 lb. capacity).


Tubular sandbags are available in white polypropylene (empty size 12"x38", filled size 4"H x 8"W x 24"L). These have about 60 lb. capacity and excel at controlling light flooding & stormwater runoff.

Other sizes available as special orders; we ask pre-payment. Allow an average of 3-5 business days.



About us:



We're New Mexico's only full-service sandbag company. Since 2009 we've been supplying the needs of defense contractors, government and tribal agencies, and businesses both large and small. We pride ourselves on meeting your specifications & deadlines with reliability and a superior product. We'll bend over backwards to get your order to you on spec and on schedule.

Click
here
to visit our store. All prices subject to change.